Breast Lift Instructional Video
The I.D.E.A.L.® Breast Lift for Simultaneous Augmentation Mastopexy
(Increased Dependability: Eisenberg's Augmentation/Lift)
With his groundbreaking staple-first technique for moderately to severely ptotic breasts, Dr. Ted Eisenberg has simplified a very challenging surgery: breast lift with breast implants, also known as simultaneous augmentation mastopexy.
He tailor tacks the breast tissues together in order to previsualize the final results – prior to making an incision and removing the excess stretched skin. This approach takes the guesswork out of how much tissue needs to be resected and permits a one-step en bloc resection, regardless of degree of ptosis or implant size.
Doctors from around the world have come to Philadelphia to learn this innovative technique, which:
modifies the approach to the inverted-T or anchor lift

corrects even the most severe ptosis

adjusts for any asymmetry of the breast

creates symmetry in one simple step

produces maximum lift and tightening without compromising circulation to the tissues

eliminates the need for permanent periareolar suture and internal mesh

essentially eliminates "bottoming out" and complications

can be performed

 regardless of implant size.
Watch a 12-minute video clip of Dr. Eisenberg's I.D.E.A.L Breast Lift technique on YouTube. 
Journal Articles and Publications
Dr. Eisenberg created The I.D.E.A.L. Breast Lift technique in 2003. It was first published in the Fall 2009 issue of the American Journal of Cosmetic Surgery; in April 2012 it appeared in the Innovative Techniques section of Aesthetic Plastic Surgery, the journal of the International Society of Aesthetic Plastic Surgery. Click here to read the abstract. Dr. Eisenberg was invited to write a chapter detailing his approach in the atlas Cosmetic Surgery: Art and Techniques(Springer; Jan. 2013). Read more about these publications here.
Purchase the I.D.E.A.L. Breast Lift Video
Available worldwide for immediate download to any computer or mobile device.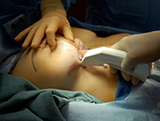 In his instructional video, Dr. Eisenberg performs and narrates the live surgery step-by-step. Order the DVD now and learn how to do the procedure.
"Dr. Eisenberg's video was easy to follow. I've introduced his technique into my own practice, and my revision rate has dropped dramatically," wrote Grant Carter, a Utah surgeon.
Chapters
Introduction:
0:00
Preoperative Markings
2:36
Breast Augmentation
15:26
Mastopexy Stapling
43:06
New Nipple & Staple Markings
1:00:16
Removal of Staples
and Deepithelialization
1:08:36
Reapproximation of Tissues
1:28:37
Final Closure & Drawings
1:51:33
Language: English        Runtime: 2 hours
When you click the Buy Now link, a shopping cart will open. At checkout you'll have the option of paying via PayPal or a debit or credit card.
You'll be able to immediately download the video, and a download page will be also be emailed to you.
"I find Dr. Eisenberg's technique quite elegant. By eliminating the tension and allowing previsualization, it increases the safety margin of the Augmentation Lift operation – and that's a very good thing."
– Dr. Wilbur Hah, Texas
See the I.D.E.A.L. Breast Lift in Person 
To observe the procedure and for more information, contact Dr. Eisenberg at 1-888-SHAPE-12 or by email.