Contact Us for a Free Consultation
Your cosmetic breast surgery can often be scheduled within a week or two because that's all we do.
Call us today at 1-888-SHAPE-12 to get your questions answered and to schedule your free consultation with Dr. Ted Eisenberg.
Complete our virtual consultation form and Dr. Eisenberg will promptly review your information. We'll call you to answer your preliminary questions.
Or fill out our brief contact form below and we will call you to set up a consultation at your convenience.
"Taking the first step, the phone call, can be nerve-racking, but as soon as I heard your voice the nerves melted away. You were so relatable and put me at ease." – Katie M.
All information you share with us is completely confidential. You can reach us directly Monday-Thursday from 9:30 a.m.-4:30 p.m. After hours, you will be directed to our answering service and we will return your call as soon as possible.
What to expect at your consultation: We allow about 45 minutes for your cosmetic breast surgery consultation so you have plenty of time to get answers to all of your questions about breast augmentation, breast lift, breast lift with implants, asymmetry and tuberous breasts, and breast reduction surgery.
Dr. Ted Eisenberg will examine you in the presence of one of his office staff, and if you desire, your significant other. He will take your medical history, discuss your specific health considerations, measure your breasts, and talk to you about the surgical approach that's best for you. You'll be able to discuss your expectations and find out what cosmetic breast surgery can accomplish.
Next, you'll look at our before & after photo albums. You'll see at least a dozen women similar to you in height, weight, and starting breast size, as if you were looking at yourself in a mirror. We also have post-op pictures showing how women look in their bras, shirts and tank tops. You will be able to see how you would look after surgery and pick the size you like best.
Note: Pre-operative pictures are taken the morning of surgery. All pictures are from neck to waist; no faces are shown. You do not have to be in a before & after photo album or on the website photo gallery.
Learn about financing options here.
Whether or not you choose to have surgery, we guarantee that you'll leave our office with accurate and honest information.
Dr. Eisenberg's office is located in Northeast Philadelphia,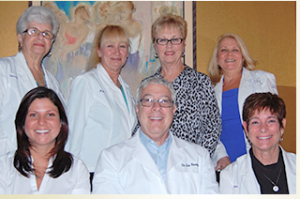 just off of U.S. 1 and within a few miles of I-95. The office is easily reached from the Pennsylvania Turnpike and the major bridges from New Jersey. We're 25 minutes south of Trenton, NJ; 35 minutes north of Wilmington, DE; 35 minutes east of Valley Forge, Pennsylvania; and two hours south of New York City. If you are coming from a farther distance, click here for information for out-of-town patients.