Surgical Instruction
Augmenting Your Practice With Cosmetic Breast Surgery: Augmentation & Lift

Customized Personal Instruction
Call 1-888-SHAPE-12 to schedule at your convenience. 
Instructor:
Ted S. Eisenberg, D.O., FACOS, FAACS
This activity is jointly sponsored by Medical Education Resources and the East Coast Center for Cosmetic Breast Surgery. It is designed to meet the educational needs of physicians who want to add breast augmentation, breast lift and augmentation/lift to their cosmetic surgery repertoire or refine their techniques.

Up to 19-20 AMA PRA Category 1 Credit(s)™ available
I.D.E.A.L.® Breast Lift
for Augmentation/Mastopexy
With his innovative staple-first technique for moderately to severely ptotic breasts, Dr. Eisenberg tailor tacks the breast tissues together in order to previsualize the final results – prior to making an incision and removing the excess stretched skin. This approach takes the guesswork out of how much tissue needs to be resected and permits a one-step en bloc resection, regardless of degree of ptosis or implant size. It simplifies a very challenging breast lift with implants procedure.
The technique was first published in the Fall 2009 issue of the American Journal of Cosmetic Surgery; in April 2012 it appeared in the Innovative Techniques section of Aesthetic Plastic Surgery, the journal of the International Society of Aesthetic Plastic Surgery. Click here to read the abstract. Dr. Eisenberg was invited to write a chapter detailing his approach in the new atlas Cosmetic Surgery: Art and Techniques (Springer; Jan. 2013).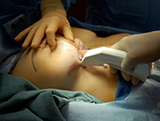 Participates will learn how to:
Correct even the most severe ptosis
Adjust for any asymmetry of the breast
Create symmetry in one simple step
Produce maximum lift and tightening without compromising circulation to the tissues
Have the confidence to do the procedure regardless of implant size
Breast Augmentation Gems:
Minimizing Complications, Maximizing Results
Dr. Eisenberg will demonstrate his technique and share insights gleaned from his experience with over 7,000 submuscular breast augmentations – from pre-surgical planning to intraoperative techniques to post-operative management.
Participants will learn how to:
Choose implant/cup size
Understand the advantages of saline vs. silicone implants
Do surgical markings using relevant anatomy
Choose the incision, specifically the advantages of the inframammary incision and placement in the submuscular dual plane
Reduce operative time and complications
Instruction highlights:
Close-up observation of live surgeries in a hospital operating roomSimulation with a hands-on surrogate model
Mock patient consultations
Patient selection and management
Ample time for questions and answers
Tuition includes the Staple-First DVD
Accreditation Statement
This activity has been planned and implemented in accordance with the Essential Areas and Policies of the Accreditation Council for Continuing Medical Education (ACCME) through the joint sponsorship of Medical Education Resources (MER) and the East Coast Center for Cosmetic Breast Surgery. MER is accredited by the ACCME to provide continuing medical education for physicians.
CME Credit Designation
Medical Education Resources designates this educational activity for a maximum of 19-20 AMA PRA Category 1 Credit(s)™. Physicians should only claim credit commensurate with the extent of their participation in the activity.
Disclosure of Conflicts of Interest
It is the policy of Medical Education Resources to insure balance, independence, objectivity, and scientific rigor in all of its educational activities. In accordance with this policy, MER identifies conflicts of interest with its instructors, content managers, and other individuals who are in a position to control the content of an activity. Conflicts are resolved by MER to ensure that all scientific research referred to, reported, or used in a CME activity conforms to the generally accepted standards of experimental design, data collection, and analysis.
---
Order your DVD of the I.D.E.A.L. Breast Lift for Augmentation/Mastopexy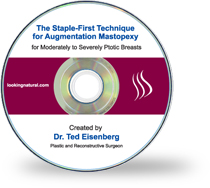 In his instructional video, Dr. Eisenberg performs and narrates the live surgery step by step. Chapters include preoperative markings, bilateral submuscular breast augmentation with saline implants, mastopexy stapling, new nipple and stapling markings, staple removal and deepithelialization, reapproximation of tissues, and final closure and dressings.
"Dr. Eisenberg's video was easy to follow. I've introduced his elegant technique into my own practice, and my revision rate has dropped dramatically."
– Grant Carter, M.D., Utah
For more information, contact Dr. Eisenberg at 1-888-SHAPE-12 or by email.