How to Choose Your Breast Implant Size
Through the years, Dr. Ted Eisenberg has answered hundreds of questions from women who have come into his office for a breast augmentation consultation. He has also answered more than 3,000 questions about breast implants on RealSelf, an online cosmetic surgery forum.
Although women ask it in many different ways, their most burning question before surgery boils down to this: How do I know what size breast implants to get? In his own words, here's how Dr. Eisenberg, who holds the Guinness World Record for most breast augmentations performed, answers:
Breast Implant Size FAQs
A sampling of their questions:
What size implants would look best? I'm 5-foot tall and 103 pounds.
What size should I get if I want to look proportional?
Would a 32 or 34 C cup fit my body but still make me look natural?
What size implants do you suggest for a full D cup?
My girlfriend got 375 cc implants. Can I get that size, too?
My answer to all of the above? It depends.
In order to choose breast implants that will achieve the look you want, you need to know your true starting size, which includes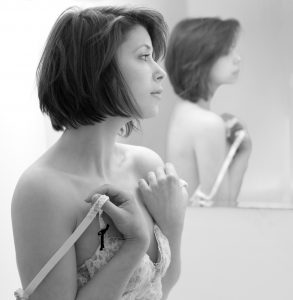 your height and weight, frame (small, medium or large-boned), breast diameter and skin elasticity. Read our blog: "Can You Make Me a Full C Cup?"
Most women think that being proportional means wearing a C cup bra. By and large (pun intended), they tell me that they want to be "a full C cup." But a C cup can mean one thing if it's made by Victoria's Secret and another if it's made by Vanity Fair. There is no standard bra cup sizing system. Breast implants are measured in cubic centimeters (ccs), not cup size.
You can't compare yourself to a girlfriend or to women who you see online. You need to compare apples to apples, so to speak. If you're starting with a full B cup and another woman started with a mid-A, you won't end up the same size when you both get 375 cc implants. You'll be about one cup-size bigger – the extra cup you started with. Watch our "Can You Make Me a Full C Cup? video. 
To figure out which breast implants are right for you, you need to have an in-person consultation with a plastic surgeon. Here's what happens when you come into my office: After I measure you and we discuss your goals, we look at before-and-after photographs of women who started out similar to you in height, weight, frame size and breast volume. Every photo notes the size of the implants that were used. It's like you are looking through a magic mirror into the future. You get to vote on the breast sizes you see and tell me: "too big," "too small" or "just right."
In my experience, women are consistent with their votes. They know what breast size they want, and I know what size implants will achieve their goal.
Before women leave the office, I tell them to consider that they are the expert on what size is right for them. They should cover their eyes and ears and disregard other people's well-meaning advice. They shouldn't  let their girlfriends and Internet forums confuse them.
Part II: What's the No. 1 question women ask the first week after their breast augmentation? Read "Is This Normal?"