Redditors Asked Me Anything: Breast Implants, Cadavers, Rockin' Hooters & More
I've answered hundreds of questions about breast implants in my office and in my book, The Scoop On Breasts: A Plastic Surgeon Busts the Myths, but answering questions on Reddit? That's another story!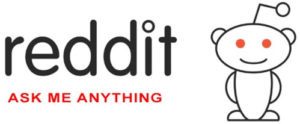 On Dec. 13 at 4 p.m., I hosted a Reddit AMA (Ask Me Anything!) session. I was introduced like this:
IamA Guinness World Record Holding Breast Surgeon. I've examined at least 56,000 breasts during my 25-plus-year career as a plastic surgeon. I'm an expert knife and tomahawk thrower. AMA!
I might not have gotten as many questions as Barack Obama, Jerry Seinfeld or Arnold Schwarzenegger did when they were on Reddit, but I probably had as much fun. Here are a handful of the questions I was asked and my responses.
♦ Tinkletwit: Did you train on cadavers? If so, was the former person aware that they'd be getting implants in the afterlife?
Drted: Two years ago, I trained other surgeons on a cadaver in a workshop at Louisiana State University. They wanted to learn my approach to simultaneous breast augmentation and lift. About the afterlife? I didn't know so I googled it and found this on HuffPost: "Most programs won't allow you to donate your body for a specific purpose. You give them the body and they decide how to use it." So I guess the person didn't know she would be getting new, perky breasts.
♦ Nine­­_2_nine: I've nursed three babies in four years for 12 months each, so my boobs are pretty much shot. I'm considering fixing them sometime in the next 7 years or so. How would my boobs age as I age? Would they eventually sag? Would I be an old lady with rockin hooters?
Drted: As you age, you lose skin elasticity. Everything begins to droop a bit and go south. If you have breast implants, they won't stay up high. They'll move south, too, along with your breasts. You'll be a rockin' old lady with normal hooters!
♦ DrPolitick: What's the farthest someone has traveled to get boobs from you?
Drted: India first, and then Ireland. (My office is in Philadelphia.) A woman from Oregon rented an RV and took a family road trip to Philly so I could do her surgery. I've had patients from many places in between, but these are pretty much the farthest.
Drted: There have been times when I thougt a woman's breasts looked good as they were, but she wanted enhancement and I felt I could accomplish her goals. My experience is that women know what they want, and my job is just to listen.
♦ ChamberofSarcasm: How often do techniques change? In the 80s we had silicone and big scars on the underside of breasts. Then they went in the nipple, then the armpit. Do you think there's a best method? Is there still a challenge or complication to be addressed or solved?
Drted: Techniques change maybe once a decade. For example, the silicone implants of the 1980s were more liquidy. Now they are more cohesive – like the gummy bear candy that doesn't leak. Breast implants are always being studied and researched for safety. I feel that the best incision is in the crease under the breast because I don't have to go through any breast structures to place the implants.
♦ ChamberofSarcasm: Do you feel a sense of competition with other surgeons? Like a brain surgeon or ortho?
Drted: With other surgeons I feel more camaraderie than competition because they understand what's involved in the responsibility of cutting into a person.
♦ 2009_G8GXP_for_sale: What's the youngest and the oldest age of patients you've done the procedure on?
 Drted: The youngest was 18, which is what the FDA recommends, and the oldest was 72. She wanted to feel as good on the outside as she did on the inside.
♦ Solutionsfirst: What's the #1 thing that would significantly make the overall process of surgery or surgery in your field significantly better?
Drted: Although it's important to keep improving surgical equipment and techniques, what's most important, I think, is improving doctor/doctor and doctor/patient communication. For example, some doctors think that patients might be discouraged by hearing about the risks and be prepared for them. We're all grownups, and we want to know all that can happen so we can make an informed decision and know what to expect.
To read Dr. Ted Eisenberg's entire Reddit, conversation, click here.